SARAJEVO, Bosnia (August 6,2008) -
Inflation and growing prices in local and global markets have pushed the cost of building the Corridor Vc (Corridor 5c) highway up by around BAM 650 million Bosnian Marks, the FBIH Entity's Transport Minister Nail Seckanovic claims.
According to him, the higher prices of energy and construction material have raised the total price of the highway by ten per cent. A precise figure is not available without a more detailed analysis, he says.
6.5 billion Bosnian Marks is the valuation for this project given in the Feasibility Study. Seckanovic has announced that the government would try to cover these increasing costs through fresh negotiations with representatives of the international financial institutions funding the project.
Corridor Vc (Corridor 5c) is a branch of the fifth Pan-European corridor. The path of the corridor is presently the European route E73, and a new highway is being constructed as part of the upgrade of the corridor.
Corridor Vc connects Budapest in Hungary to the Adriatic Sea at the Croatian port of Ploče. The corridor does not only feature the highway, but rail upgrades and airports of significance along the way. The longest part of this corridor goes through Bosnia and is widely touted as a road instrumental to the development of the country.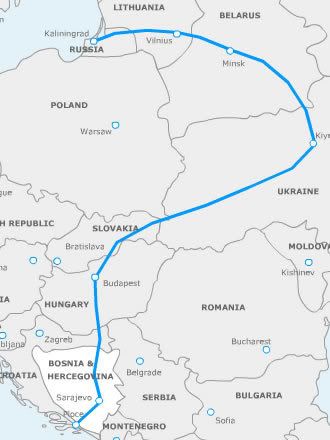 PROJECT CORRIDOR VC - "NEW DEAL" FOR BOSNIA
As for Bosnia, the Corridor Vc highway is one of the most significant and project of the highest priority. The construction works on the road have already begun, but intensified beginning of the construction will be a key starter of economic and social activities, and will enable Bosnia to be connected to main European traffic network, as well as to global European economic and social structure.
Construction of the highway, whose total length is 340 km, will provide: rational connecting to neighboring countries and regions; stabilizing and developing effects will be reached; transport conditions and quality of life improvement; economy competitiveness enhancement; new projects launched and national and international private investments enhancement.
.