SARAJEVO, Bosnia (November 24,2007)
– The European Union Force in Bosnia (EUFOR) and NATO troops searched for leads on the Serbian most wanted war criminal, Radovan Karadzic, in homes of his supporters in Bosnia.
According to Major David Fielder, the spokesman for the European Union Force in Bosnia, troops began the search simultaneously at 5 a.m. yesterday at the homes of Serbian war criminal Radovan Karadzic's wife and children, looking for evidence that may reveal his whereabouts.
Former leaders of the Serbians living in Bosnia,Serbian war criminals Radovan Karadzic and Ratko Mladic were indited by the UN war Crimes tribunal for genocide and other crimes they committed in Bosnia during the 1992-1995 Serbian aggression against Bosnia.
Serbian war criminal Ratko Mladic is believed to be hiding in Serbia,protected by Serbia's fascist government.There have been no signs of Serbian war criminal Radovan Karadzic's location for years.
Due to a network of supporters who keep financing and otherwise facilitating their hiding, numerous bootless raids and manhunts have resulted the Serbian war criminals' evasion of justice for the last 11 years.
Yesterday's action by international and local law enforcement forces demonstrates that combined action aimed at undermining the networks that support fugitive persons indicted for war crimes remains both relevant and necessary," said the International Community's Principal Deputy High Representative in Bosnia Raffi Gregorian.
The Office of the International Community's High Representative in Bosnia (OHR) welcomed and fully supported the search of premises belonging to Serbian war criminal Radovan Karadzic's family members : Ljiljana Karadzic, Sonja Karadzic, Sasa Karadzic, Branislav Jovicevic and Ranko Cicovic.
Gregorian noted that Bosnia as well as OHR, the U.S. and EU have all enacted a variety of sanctions aimed at these persons because of their involvement in the support network.
"The capture of war crimes suspects through undermining their criminal support networks remains one of the key tasks for the International Community in Bosnia," the Gregorian said.
"EUFOR's and NATO's roles here in Bosnia remain key for justice and for this country's long term security and stability but equally important is the involvement of local law enforcement agencies," he said.
Full cooperation with the ICTY remains a Dayton requirement and also has a direct bearing on Bosnia's integration into Euro-Atlantic structures.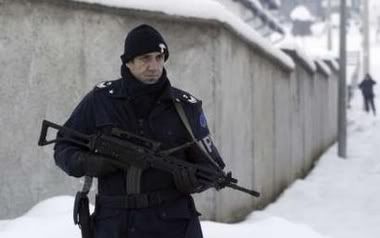 An Italian carabinieri serving with the European Union Force (EUFOR) in Bosnia guards the home of Ljiljana Zelen-Karadzic, the wife of former leader of the Serbians living in Bosnia,Serbian war criminal Radovan Karadzic, in his wartime stronghold of Pale, near the Bosnian capital Sarajevo, November 23, 2007.